Florida Policy Institute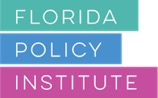 About
FPI is Florida's partner in the KIDS COUNT network dedicated to tracking the well-being of children, young adults and families. We are committed to disseminating high-quality national, state and local data to help drive policymaking and improve the lives of children, young adults and families in the Sunshine State. Our analyses of well-being indicators across the state, with a particular focus on geographic and demographic inequities, provide critical insight into the quality of life for children and families.
Location
Florida Policy Institute
1001 N. Orange Ave.
Orlando, Florida 32801
Contact
Norín Dollard
Senior Policy Analyst and KIDS COUNT Director Subscribe
Sign up to receive updates directly from this data provider.
Location
Florida Policy Institute
1001 N. Orange Ave.
Orlando, Florida 32801
Contact
Norín Dollard
Senior Policy Analyst and KIDS COUNT Director